Pravoslav Sovak was born in 1926 in Vysoké Mýto/ East Bohemia. He grows up in a house where value is placed on literature and art. The family moves to Pilsen in 1930. Shortly before the war, his father began to collect graphic works by Czech symbolists and avant-garde artists of the interwar period.
Pravoslav Sovak, who himself considered "the occupation with art as a form, as a life possibility in every second of his life, but at the same time also as a very intimate matter", made his first drawings and woodcuts in 1939, when he was only 13 years old. In 1941 he is expelled from all high schools in the Protectorate of Bohemia and Moravia.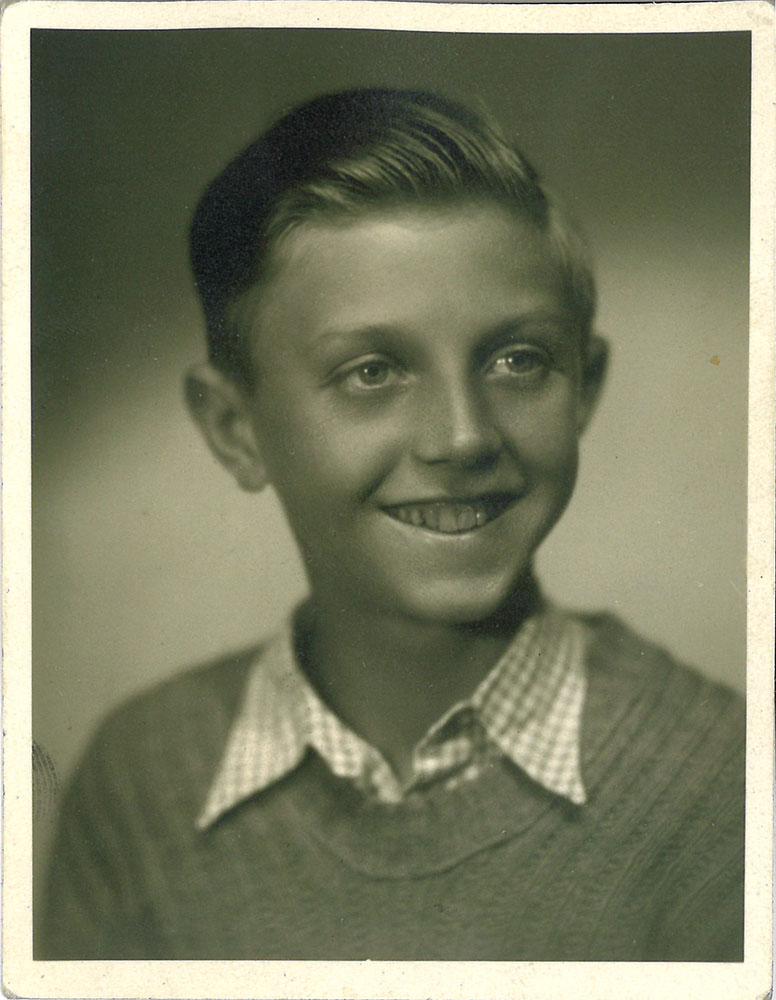 After attending a private school of graphics and design in Prague (1942), he began training at the Bechyně (South Bohemia) Ceramics School, graduating in 1944.
These are important years that leave a lasting mark on him and his entire creative output: On the one hand, in dealing with clay, he develops "respect for every basic material" and acquires from the writings of the Austrian architect of modernism, Adolf Loos, his aesthetic, anti-decorative views; on the other hand, from his friendship from 1943 with Vincenc Kramář, director of the National Gallery in Prague, friend of Picasso and collector with the highest sense of quality, Sovak becomes acquainted with works of Impressionism and analytical Cubism`, among others.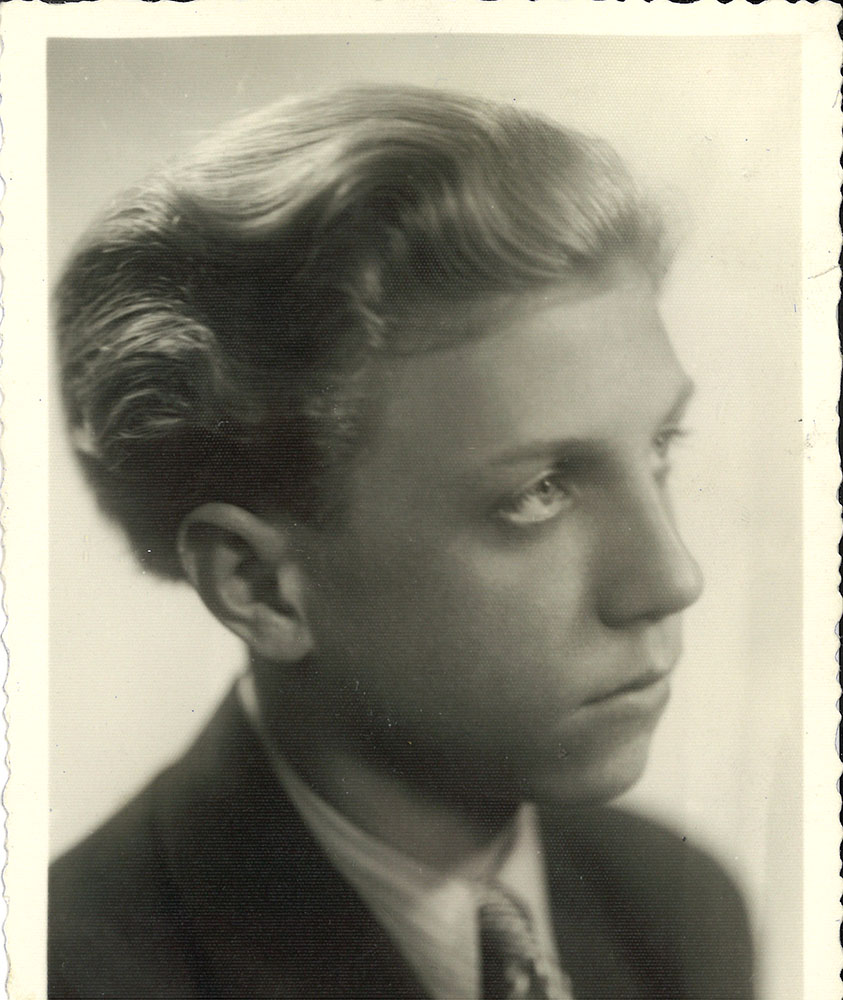 Information was more than sparse during the Cold War period. In the 1950s, the block on Western books and magazines was absolute. It was also impossible to travel to the West. For more than ten years the scene was completely out of touch, the only thing that was known was some numbers of smuggled art magazines circulating in Prague, that was all. But not everything that was learned from the West was surprisingly new - and some of it confirmed attempts and attempts that had been made in Prague at that time or long before [...].
Sovak (Table Talk with W.G. Fischer) 1981, p. 21.
Work assignments and study
The political situation interrupted the subtle, aesthetically valuable encounters with Kramář until the end of the war. Instead, a total deployment follows in a chemical factory and during fortification work at the front in Eastern Moravia.
Health reasons released him from the hard work. After graduating from high school in Prague in the summer of 1945, Sovak attended the College of Applied Arts here. At the same time he listens to lectures at Charles University on philosophy and aesthetics as well as art history, among others with Prof. V. Černý on existentialism and Prof. Mukařovský on structuralist aesthetics.
In February 1946 Sovak made his first public appearance with his own street performance.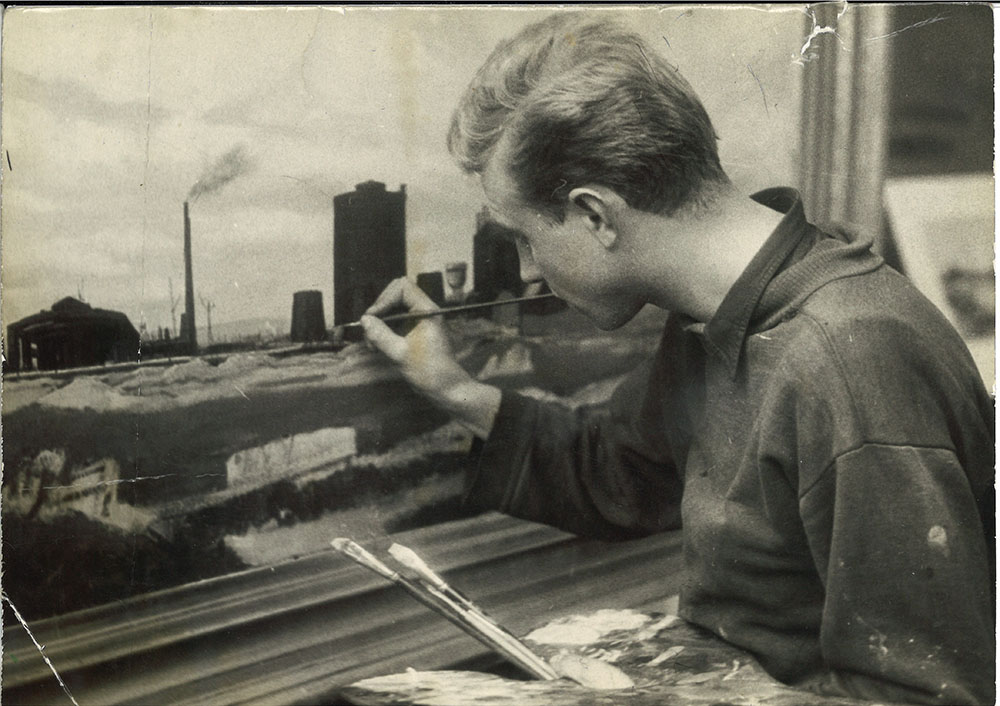 Artist - Assistant - Worker
In the summer of 1946 he travels to Paris, where he creates watercolors and drawings. He takes an assistant position at the Faculty of Art Education at Palacký University in Olomouc (1947) and attends lectures by Professor Markalous on aesthetics and philosophy.
He left Palacky University in 1949 - one year after the communist takeover.
In the coming years between 1950 and 1953 Sovak painted and drew only rarely: he worked in Prague's heavy industry, then on the construction of the Vltava dam, in the coal mine in Ostrava and in the steel rolling mill in Kunčice.
In 1953 he returned to Prague.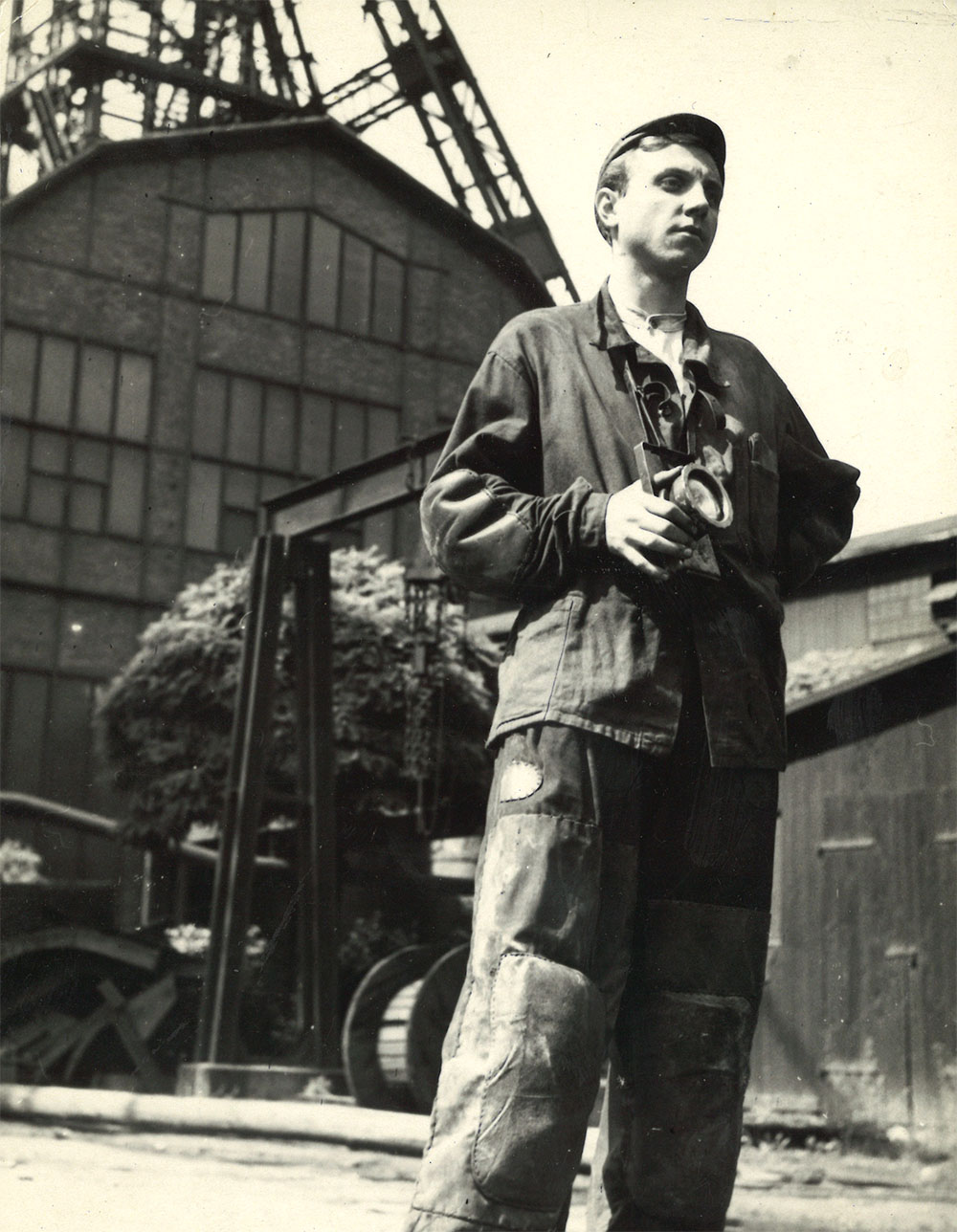 Prague years and trips abroad
In Prague, Sovak returned to painting in depth. In 1957 he moved to the Smíchov district of Prague, in the immediate vicinity of the Pegrassi copperplate printing house, a family of Italian copperplate printers who had immigrated many centuries ago.
Sovak began to intensively explore the possibilities of (drypoint) etching, a graphic intaglio printing process. In 1958 he traveled to Venice and Egypt. Despite a ban on leaving the country, he took part in exhibitions abroad for the first time in 1959 (Klagenfurt, Vienna); in the same year he also exhibited in Prague.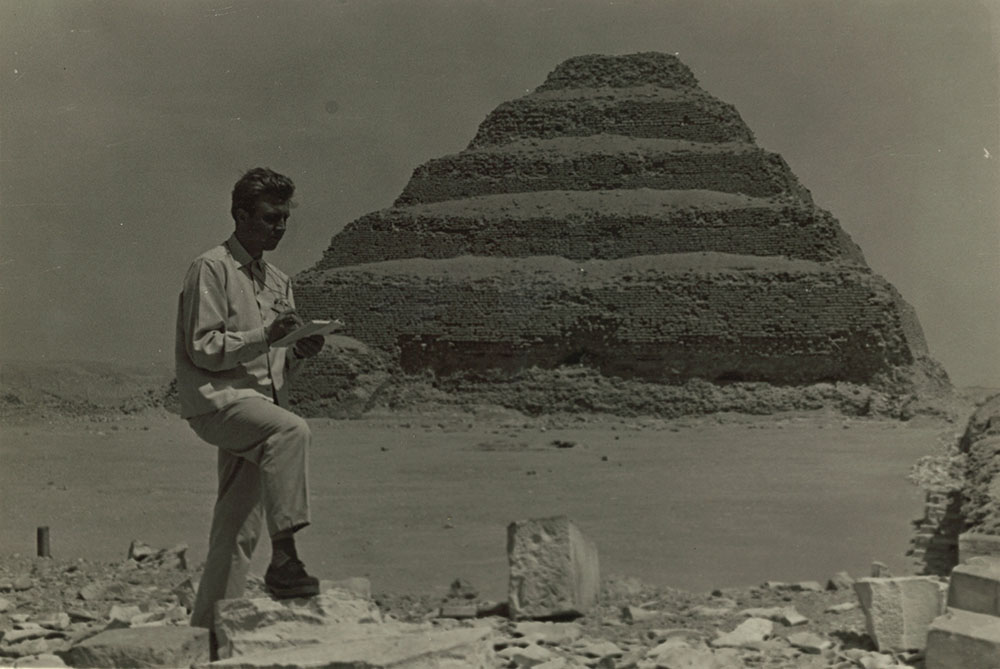 During this time, "he paints and etches (his) subject: the city. He paints it in his own way: anti-decorative and anti-impressionistic... Everything must carry the line, and the form... A world in which man loses himself, gets lost in streets that lead nowhere." (Milan Kundera, 1959 on the Sovak exhibition in Prague).
Sovak will turn to this dominant theme for decades. In 1960, he designed costumes and sets for the experimental Semafor Theater and decorated films and plays. He travels to Moscow and Leningrad.
From 1961, he produced his first colored sheets and expanded the classical graphic techniques with more complex methods (including the use of varnish).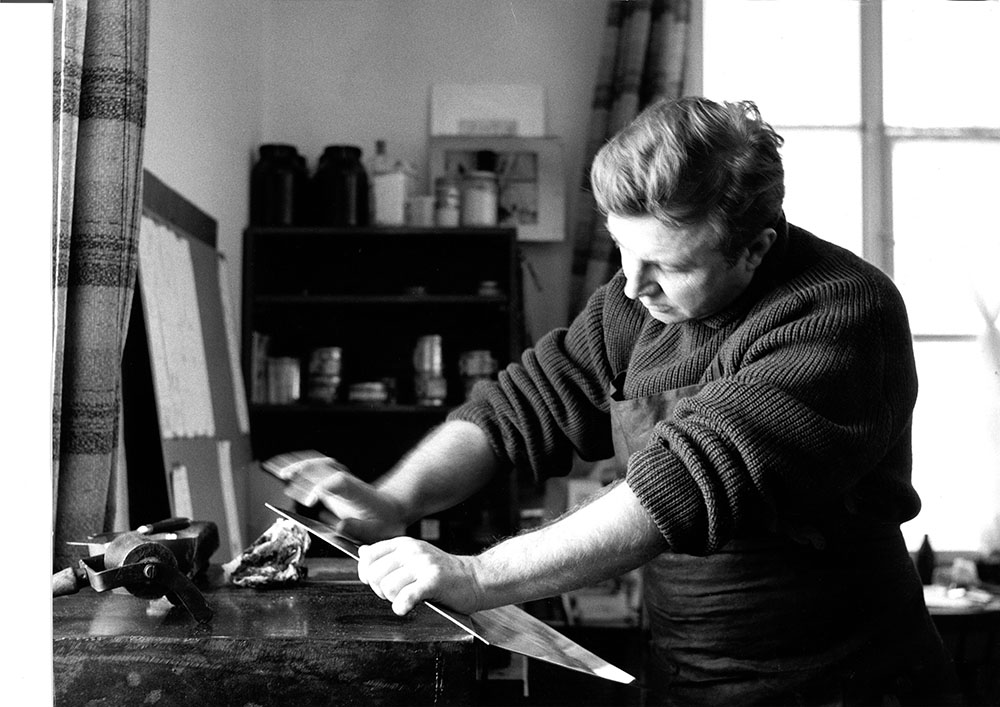 Solo exhibitions, acquisitions, awards
In 1963, the Kunstverein in Kassel organized Sovak's first solo exhibition, and important collections (Staatliche und Städtische Kunstsammlung Kassel, Royal Collection of Copper Engravings Copenhagen) made their first purchases.
For study purposes he stays in 1966 in the Klee archive in Bern and converts an old mill into a studio in South Bohemia. The acquaintance with the painter Mark Tobey, who acquires some of Sovak's works, leads to an intensive correspondence.
As a result of the exhibition "Fourteen Graphic Artists from Prague" he was awarded the Folkwang Press Prize, and in 1967 he won 1st prize at the Triennial of Color Graphics in Grenchen, Switzerland.
A longer collaboration with the Danish lithographer Christian Sörensen develops.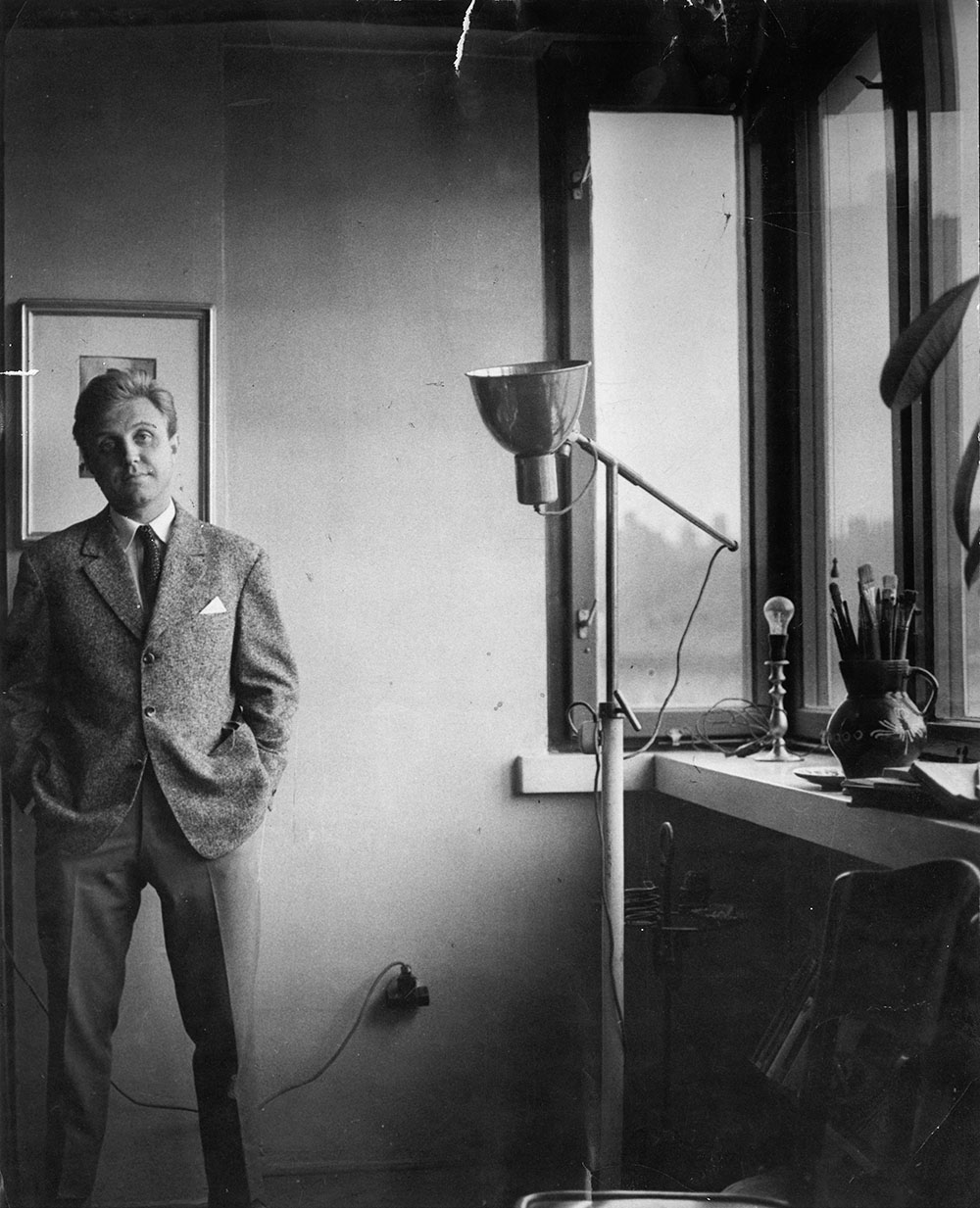 Emigration and relocation to Switzerland
On August 21, 1968 (the day of the occupation by Soviet troops) Sovak left Czechoslovakia and emigrated to Germany. After preparations at the Museum Folkwang in Essen, he met the copperplate printer Gert Schegulla during a stay of several months in the artists' village of Wamel near Soest - it was the start of a collaboration that would last for decades. Commissioned by the Bucher publishing house in Lucerne, he begins illustrations for Pavel Kohout's Diary of a Counter-Revolutionary and color etchings for Graphic Diary (until 1969). Switzerland grants him political asylum, and in 1969 he moves to Lucerne. After an exhibition at the Museum of Decorative Arts, he leads an advanced study course in Zurich.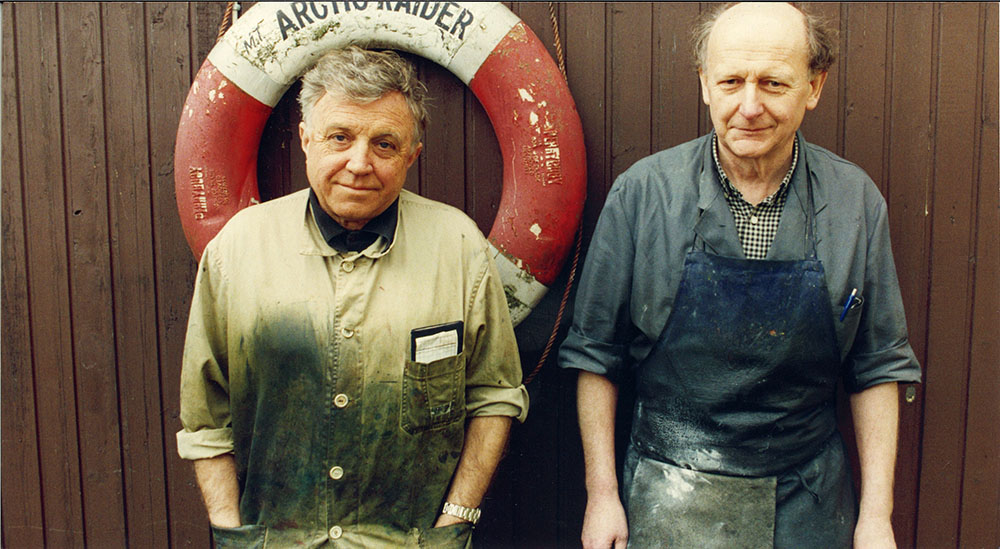 Travels to the USA and England
The 1970s are marked by regular stays as well as exhibition participations in the USA and repeated journeys through the deserts of America, which are reflected in future themes such as Walls and in motifs on the desert in the following decades.
Print plates on the theme of microcosms (creation from 1967) are edited and completed. Sovak makes the first color etchings for the 16-part portfolio Indirect Messages and finishes them in 1972.
The Museum of Modern Art New York acquires this series after its first exhibition at the Rehn Gallery in New York.
Parallel to the work on graphic plates, drawings and gouaches are created.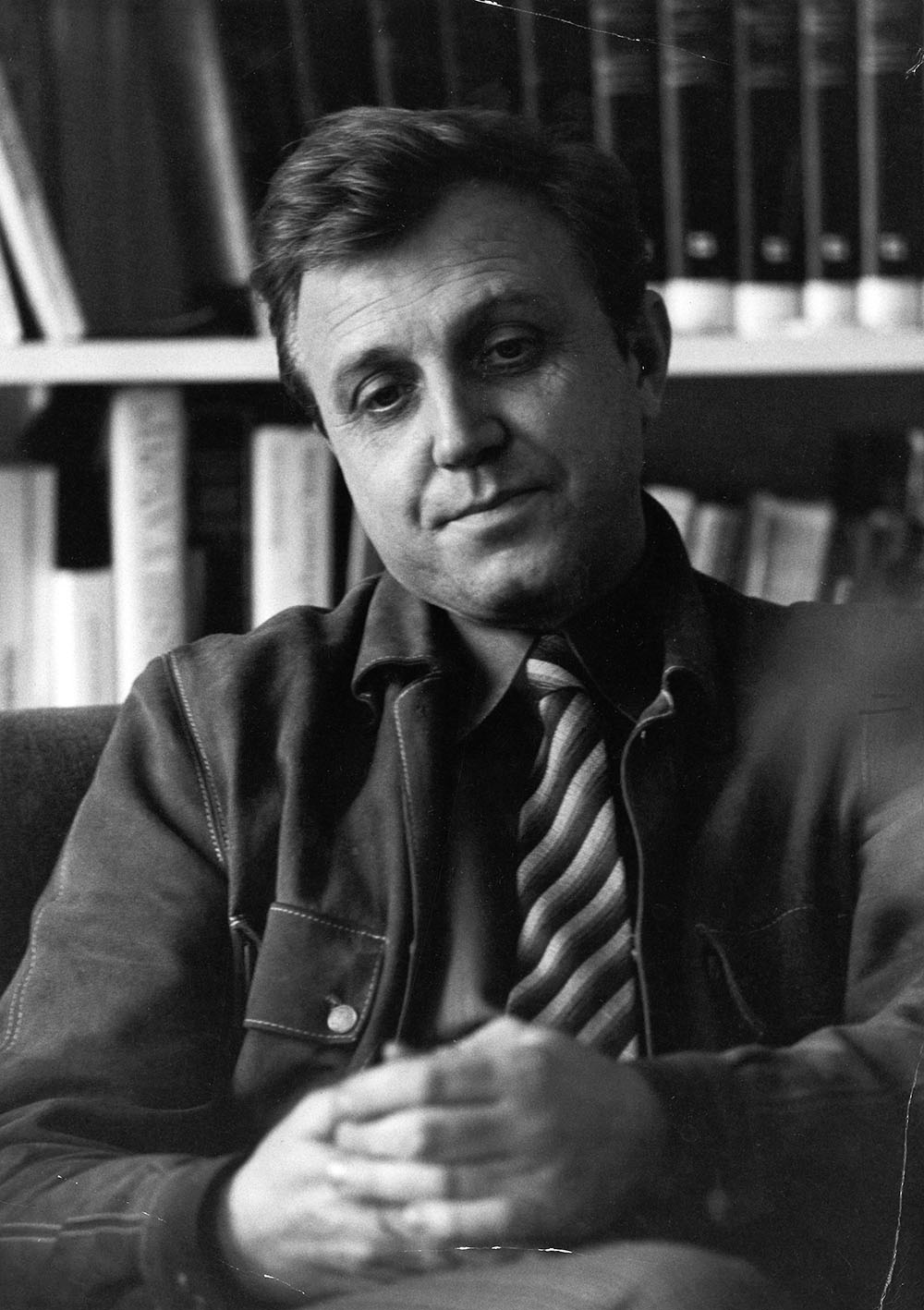 It's like when you breathe. It's something that comes naturally. You get an idea, quite naturally, and follow it. Art is a process of the whole life. It's a way of life, you won't think about it or do anything different until your last breath.
Sovak, Pravoslav: "Art as a Process of Life. Pravoslav Sovak in Conversation with Anna Friedrichson," in Sovak clearvision[s]. Catalogue raisonné 1995-2016, exh. Cat. Mannheim 2016, ed. by Ulrike Lorenz and Anna Friedrichson, Munich 2016, pp. 18-21, here: S. 18.
In the fall of 1973 Sovak travels to New York and the deserts of Arizona, Utah and New Mexico. Thus he finds the following words for the desert on the Nevada border: "... Since I left the landscape of my childhood, I have been moving through cities, civilization, cultivated land. And gradually in the desert; ... The texture and topography of the desert, its far-sightedness and wide horizons: dimensions to which there are no political limits, which make one free... A landscape, pure and barren, in which one becomes an earthling in the most actual sense." (Sovak 1973). In a series of works in the following years, he captures the theme of the desert with the help of rhythmic networks, which accompanies him into his later work.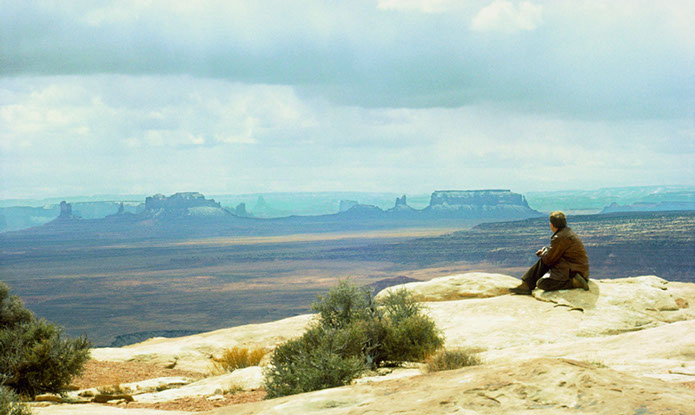 Professorship in Germany, stays in England, residence in Hergiswil
In 1975 the artist received a professorship for free graphics at the Cologne University of Applied Sciences for Art and Design (until 1991). During longer stays in London from 1976 Sovak begins the series Museum Sheets, which can be found until 2008 (see unpublished photogravure / aquatint Rodin, 1996-2008).
His artistic work is awarded the prize of the Print Club Biennial in Philadelphia in 1977. The following year he left Lucerne and moved to Hergiswil (Canton of Nidwalden, Switzerland), which became his new place of residence and creation. Here he obtained Swiss citizenship and the citizenship of Hergiswil in 1987.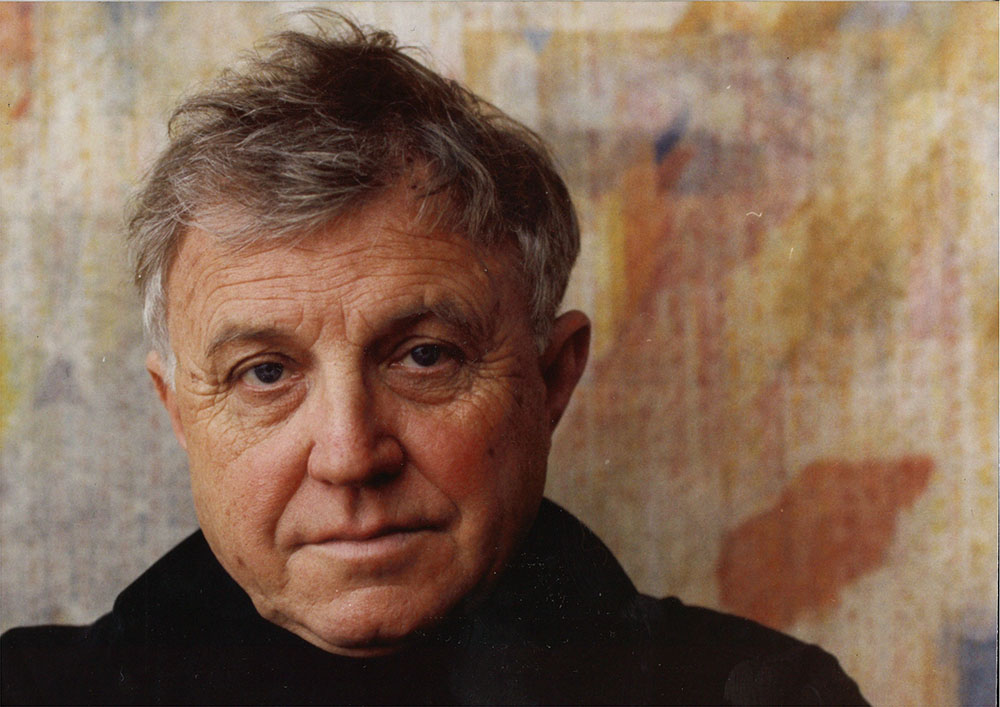 Appreciations and international breakthrough
Scholars and writers continue to pay tribute to him and his work in numerous publications, accompanied by exhibitions in Europe and the U.S., such as Hilton Kramer in the New York Times: "Working in small formats, often using a sharply sharpened pencil with the patience of a saint, Pravoslav Sovak has created a series of watercolors and gouaches that evoke vast desert spaces. Yet it is not actually the space of nature (...). The open, sandy distances are there, the enchanting, empty light as well, but in truth it is a desert of imagination that the artist means (...)." (25.3.1977, quoted in: Ausstellungskat. Kupferstichkabinett Berlin 1994, p. 190).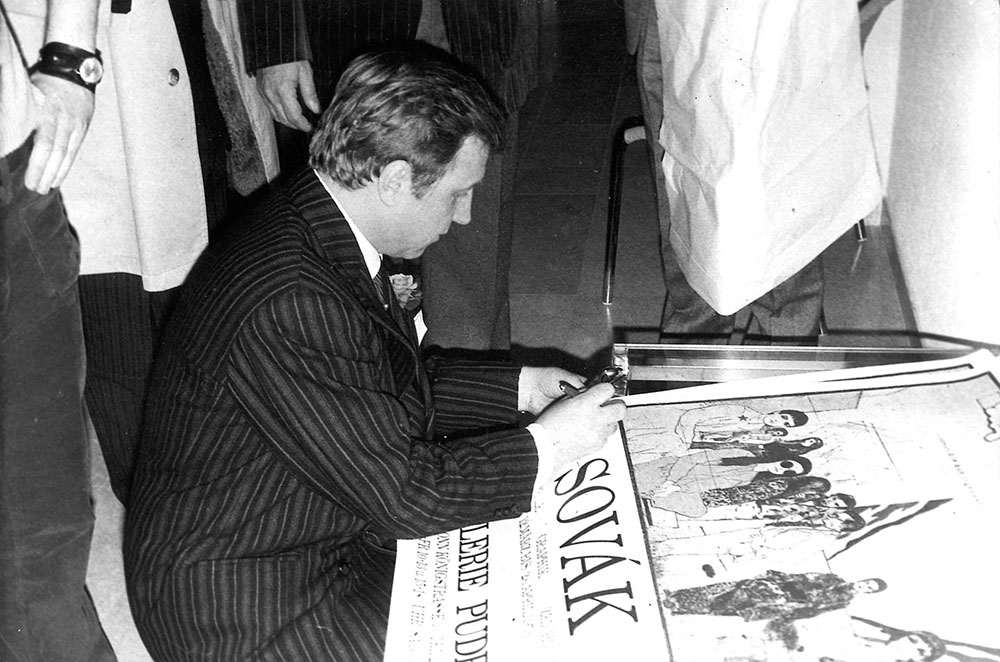 Between Europe and the USA
From 1980 to 1983 5 color etchings are created for the portfolio work You go to Heidelberg too often. Milan Kundera describes Sovak's "pencil and watercolor works from 1975-1983" as "incredibly, almost absurdly rich in detail. This net laid on the picture says that any millimeter of the paper is a problem in itself, which can be meditated on for months." (Cat. of the retrospective at the Mannheimer Kunstverein 1984).
Once again Sovak travels through the deserts of the western USA, staying in Arizona and California (1985-86).
Works emerge that reflect his experiences: in precise line structures over color surfaces that add up to vibrating spaces.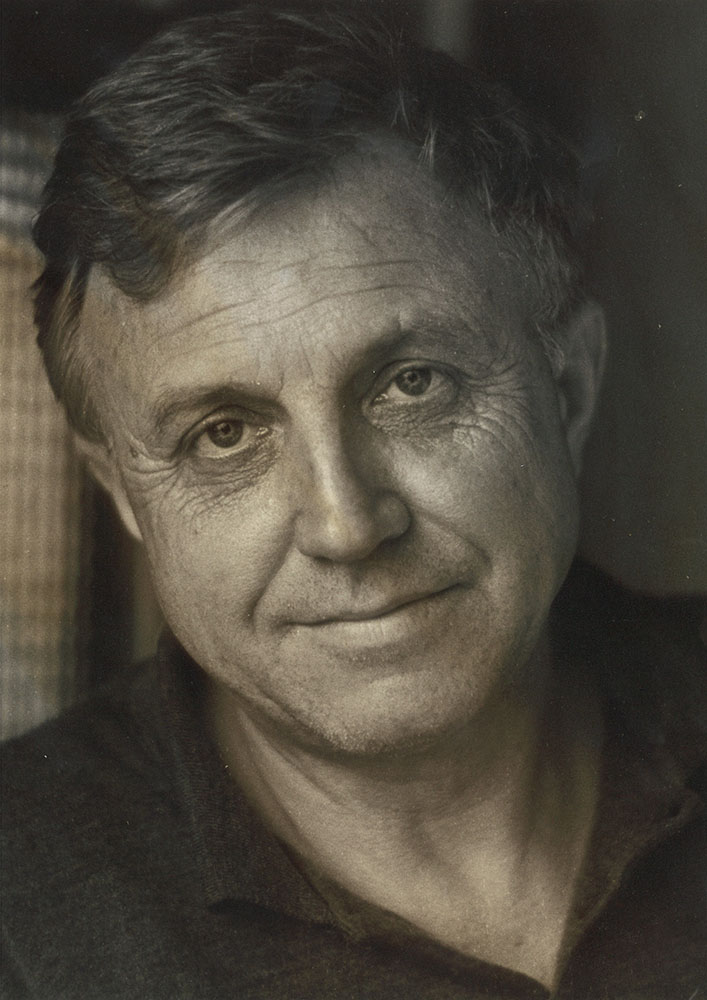 Deepening of topics, trip through France, foundation of the circle of friends
Furthermore, works are created that reveal an almost sensual beauty and take you into a space that knows no time measurement and pulsating hustle and bustle. Instead, a breath of eternity becomes perceptible. Intensive observation is necessary to grasp the close-meshed, order-creating hatchings and net structures. Only then, amazed and admiring, do we glimpse the process of creation of the works, which often extends over several years.
He continues to work on the series Museum Sheets. A trip through France (1988) to Brittany expands the motifs. In 1990, the Circle of Friends Pravoslav Sovak is founded in Emmetten (Switzerland), dissolved in 2019.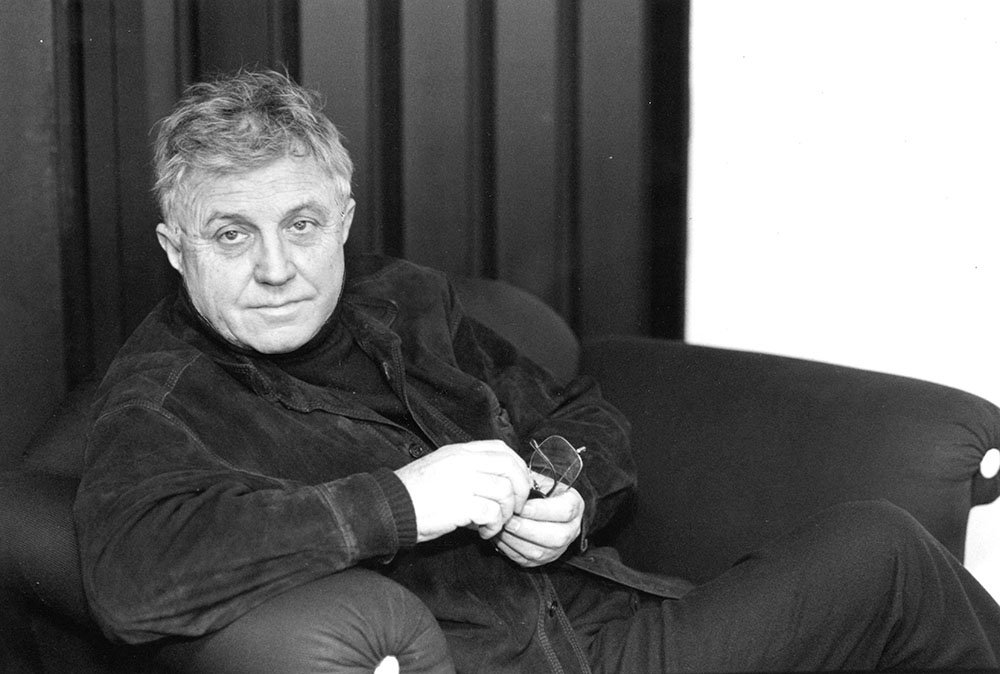 Late work, stays in Paris
In a series of sheets under the title Walls Sovak continues to process the theme of the city/urban architecture throughout the 1990s. Made up of grids and abstract patterns that can be infinitely duplicated, strung together to reflect the steel-and-glass constructions of skyscrapers in urban structures, these sheets also document a kind of desert, albeit an architectural one that eludes representationalism and is devoid of human beings.
The first sheets of the series are created Beauties based on older photographs and titled Installations Imaginaires in the next five years numerous color etchings. Sovak worked from time to time in Paris.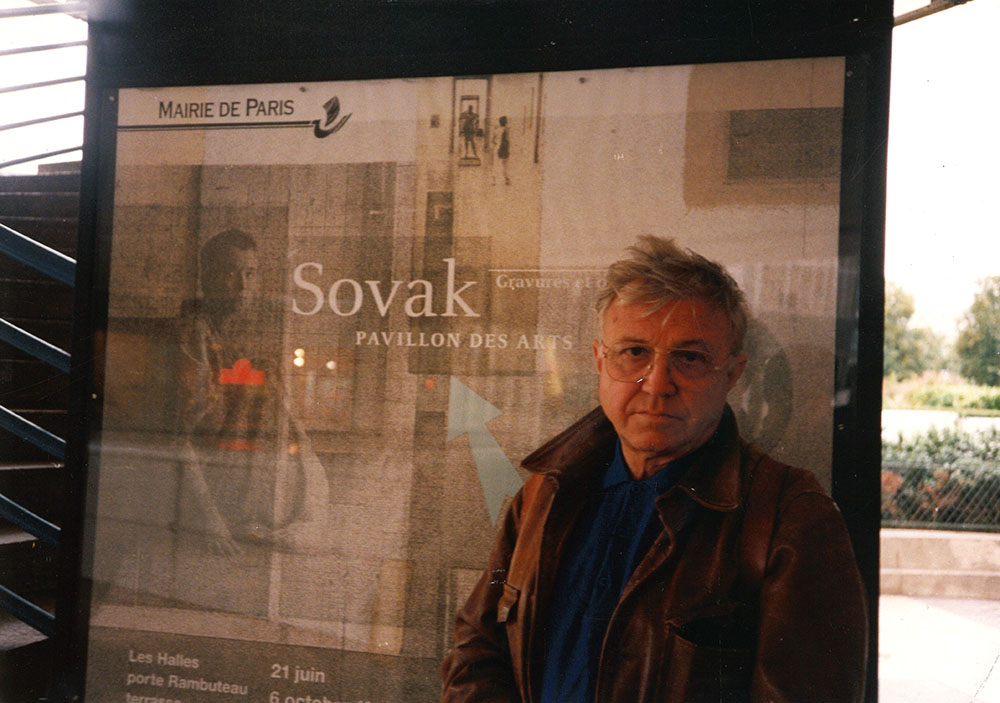 International retrospectives and digital prints
In 1992, the artist was awarded the Johann Melchior Wyrsch Prize of the Schindler Kulturstiftung Hergiswil and, as an artist who is now internationally known, he is honored in important retrospectives.
The years after the turn of the millennium show how Sovak continues to give space to clear, ordering grids and networks in the most diverse forms. Pravoslav Sovak celebrated his 80th birthday in 2006. He turned to another current technique that was new to him: the digital reworking of photographs. These digital prints will be shown for the first time in Munich in 2008 in the Kunstfoyer of the Versicherungskammer Bayern.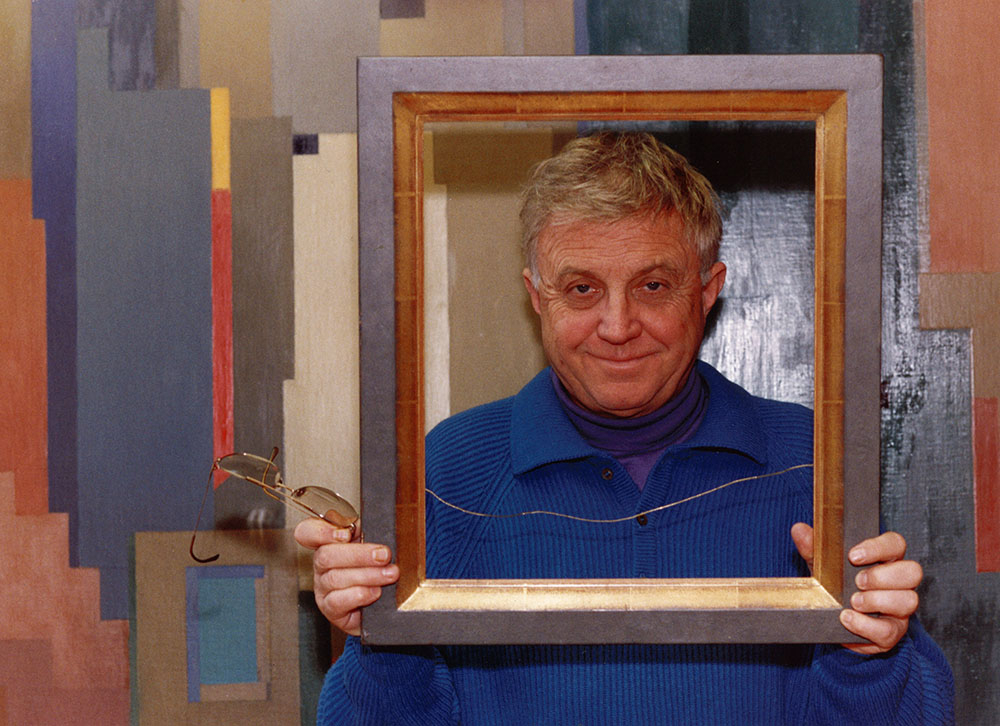 Collages: Retrospects and memories
In 2009, a generally accessible archive of the artist was established in the Museum Kunstforum Ostdeutsche Galerie Regensburg.
In his 84th year of life Sovak begins to make collages (2010 to 2012): He interweaves found objects, quotes, and visualized memories into very personal images of his own biography with stories from then and now.
Even in his later work, the high aesthetic and craftsmanship standards are always present: "I love things that are made with the finest feeling for material, for the possibility of a material, for its quality and processing. I love things in which the visual, the haptic and the function, simply everything is right" (Sovak, 1974).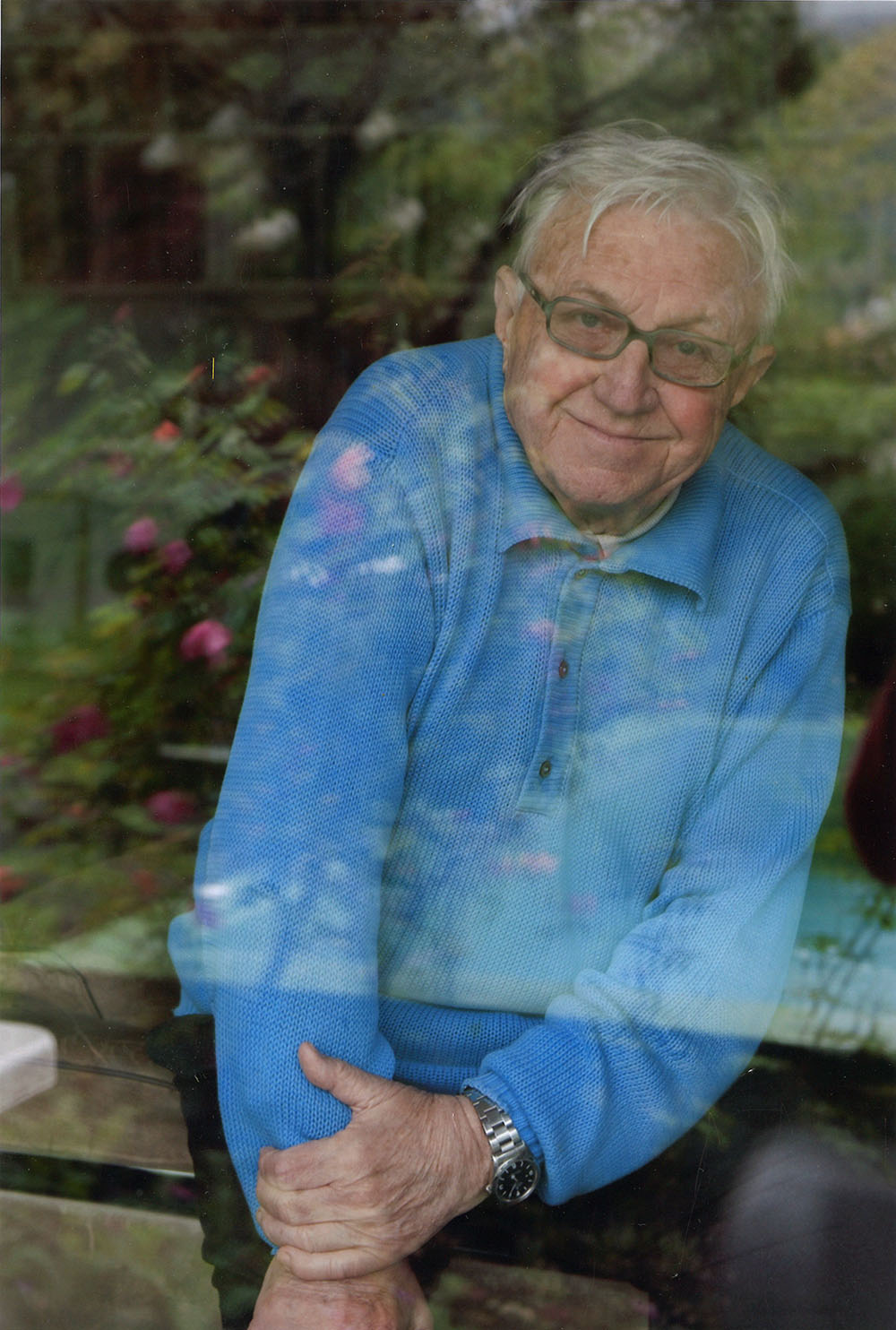 Homages, first Czech retrospective, foundation establishment
Sovak's merits in the field of graphic art were honored between 2014 and 2018 with solo, group exhibitions, retrospectives, as well as the first Czech exhibition retrospective in Prague at Museum Kampa. In 2016, the artist celebrated his 90th birthday. The Pravoslav Sovak Foundation, based in Switzerland, was established in 2020. In 2021, Pravoslav Sovak celebrated his 95th birthday. In his honor, the Kampa Museum in Prague presents an exhibition tribute. All remaining printing plates from Sovak's former printing workshop in Wamel b. Soest (Germany) will be on display at the Kunstmuseum Zug (Switzerland).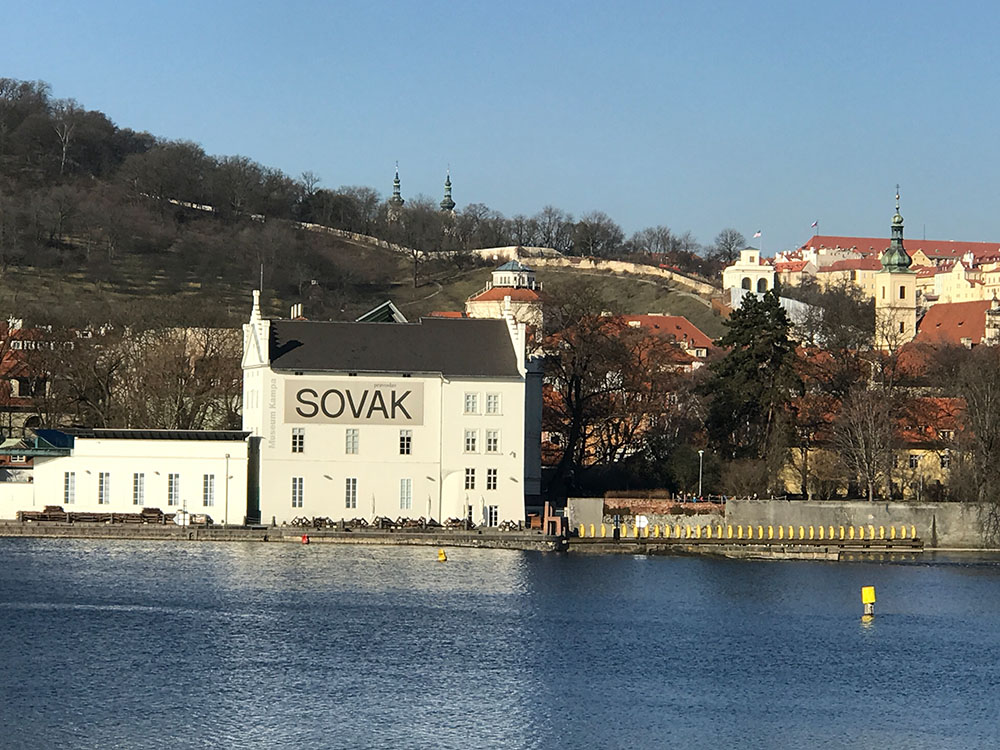 Pravoslav Sovak died at his home in Hergiswil at the age of almost 96.